Law enforcement agencies around the world are making the move to a SaaS business model. Since 2015, the SaaS industry has continued to grow from approximately $31.5 billion to an estimated $171.9 billion, according to Gartner.
The benefits of moving to SaaS are numerous, ranging from reduced support and rapid deployment to lower costs and greater flexibility. SaaS provides law enforcement agencies with a complete software solution that can be purchased on a pay-as-you-go basis from a reputable cloud service provider. With SaaS, organizations can get up and running quickly and with minimal upfront investment.
Before making the decision to move towards SaaS, it is important to consider the advantages that a law enforcement agency could achieve by leaving their on-premise software behind. Here are some of the top reasons to make the move towards SaaS:
What Is SaaS and How Does It Work?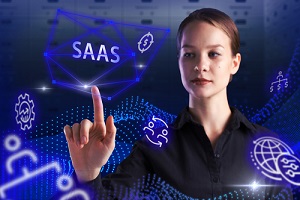 Software-as-a-Service (SaaS) provides cloud-based apps over the internet that enables users to connect to and utilize from any web based device. Cloud-based software is not new and many organizations already use it such as with calendaring, email and office document tools including Microsoft Office 365.
With this popular business delivery model, a cloud service provider hosts cloud-based software and provides customers with access to apps. Elements of the product such as updates and maintenance are the responsibility of the cloud service provider. Law enforcement agencies can choose from different subscription plans based on the size of the agency and their unique needs.
Why Should Law Enforcement Agencies Move Towards SaaS?
SaaS solutions have countless advantages over traditional software deployment models. It is important for leaders across the law enforcement industry to understand what they could gain from moving toward SaaS.
1. Swift Implementation
Installing and configuring traditional software can be a time-consuming and complex process. Issues are common with on-premise software and can extend the length of time it takes to get important applications ready for use. SaaS differs from this traditional model as the software is already installed, configured and ready for use in just a couple of hours.
2. Cost Savings
Law enforcement agencies are always looking for ways to save money that could be better spent protecting their communities. SaaS can provide agencies with significant savings over time. First, SaaS eliminates the upfront cost of purchasing and installing on-premise software. The costs associated with upgrades and maintenance are also eliminated. Pay-as-you-go models are great for reducing costs as agencies only pay for what they need and not for unused licensing.
3. Greater Mobility
Mobility is one of the most distinct benefits of SaaS. The disruption of normal office operations due to COVID-19 has helped many organizations better understand the importance of mobility. With the proper device and an internet connection, law enforcement officers can quickly access data and software tools from any location without having to install software. SaaS has helped countless law enforcement agencies maintain flexible workforces.
4. Simplified Scalability
Another major benefit of SaaS for law enforcement agencies is scalability. With on-premise applications, restructuring costs can quickly accumulate as functional demands and performance grow. Under a cloud-based software model, additional functionality and licenses can be added with minimal effort and time commitments.
5. Improved Collaboration
The ability to effectively collaborate is important in nearly all industries but few more than law enforcement. Agencies not only need to be able to collaborate internally but also with other law enforcement personnel across the country. SaaS allows for better collaboration by making it fast and simple for users to send messages, documents and files without having to install additional software.
6. Smooth Compatibility

With traditional software, law enforcement agencies may encounter frequent updates that require large time and financial investments. Version discrepancies between users within a workforce can also result in compatibility issues that only worsen with time as software becomes more outdated. SaaS can help eliminate compatibility issues by enabling users to simply log on to an application that is automatically upgraded and maintained.
7. Secured Data Centers
There are many misconceptions when it comes to SaaS, especially in the area of security. However, cloud security has improved significantly in recent years, making it a trustworthy service used by businesses of all sizes. Today, secure data centers found across the country are used to host cloud software and data. These innovative data centers use the latest technologies and meet the highest standards of security.
Learn More About Law Enforcement Software Solutions
While SaaS may not be the right solution for every law enforcement agency, it can be advantageous for most agencies ready to achieve cost savings and instant access to resources without sacrificing security. SaaS can help streamline business processes as many technological burdens are shifted to the service provider, allowing law enforcement officials to focus on their important work.
CPI OpenFox offers innovative law enforcement software solutions that aim to deliver optimized, secure and reliable systems to local and state law enforcement agencies across the U.S. Schedule a consultation today to get started.