Crime rates in the United States continue to rise steadily. According to a recent report published by the Federal Bureau of Investigations, there was a total of 2,109.9 property crimes per 100,000 people in 2019, as well as 379.4 violent crimes per 100,000 people. Offenders put others at risk for serious injuries or financial losses from theft, vandalism, aggravated assault and manslaughter.
In an attempt to stop crime, many law enforcement agencies and departments across the nation are turning to law enforcement software. Modern law enforcement software solutions are capable of improving policing practices, enhancing public security and building community trust. Learn more about how law enforcement is turning to software to fight back against crime.
How Technology Is Helping to Reduce Crime
The use of technology in law enforcement has increased significantly over the last decade. While law enforcement agencies have long been early adopters of innovative technology, the digital age has opened up countless opportunities for law enforcement to more effectively handle emerging cybercrimes, as well as mainstream crimes of shoplifting, disturbances and domestic violence.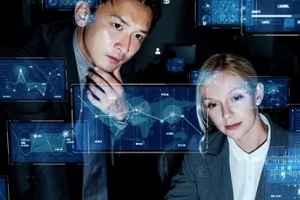 Police forces across the country are starting to realize the need for high-performance connectivity. Having real-time access to applications that can be utilized anywhere and on any device is critical for a wide range of purposes, such as checking driver's licenses.
Many agencies are also recognizing the importance of leveraging data for crime prevention. The collection of data proves futile if agencies do not have the ability to organize, manage and deploy the information quickly and efficiently.
With the right software solutions, law enforcement can analyze data in a way that helps them identify crime trends and patterns. By applying predictive analytics to data, law enforcement can determine where crimes are most likely to occur.
Custom Law Enforcement Software Solutions
Technology has transformed the way that law enforcement approaches crime prevention and management. Today, there are a wide variety of software options on the market designed to help facilitate the secure sharing of information, eliminate communication barriers and streamline everyday police operations. These innovative tools were developed to give modern law enforcement officers the advantage they need to best serve their communities.
While every agency is unique, many rely on the same tools and capabilities. Some of the most popular software solutions currently on the market include:
Background Check Software – Law enforcement commonly uses background check software to reveal personal information, such as arrest records, court records, sex offenses, warrants, convictions, misdemeanors and felonies.
Evidence Management Software – Evidence management software allows law enforcement to easily collect and document evidence on a centralized platform.
Case Management Software – With case management software, law enforcement can develop workflows that help to effectively manage and track police cases.
Scheduling Software – Police scheduling software makes it easy to enforce strict schedules and ensures that all employees are aware of their duties and responsibilities.
Incident Mapping Software – Incident mapping software provides law enforcement with maps and other useful tools used to perform trend analysis.
Citation Software – With citation software, law enforcement can automate the citation process using a digital database, saving significant time and money.
Dispatch Management Software – Dispatch management software streamlines police operations by providing the tools that police need to record and prioritize calls to law enforcement.
Advantages of Predictive Policing to Stop Crime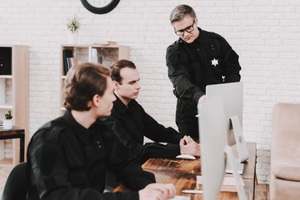 In the law enforcement industry, predictive policing is a term used to describe the use of algorithms to analyze large amounts of data to predict and aid law enforcement officials in the prevention of future crimes. The most commonly practiced method, known as place-based predictive policing, uses pre-existing crime data collected by agencies across the U.S. to identify locations and times that are associated with the highest risk of crime.
In comparison, person-based predictive policing involves attempting to identify people or groups that are more likely to commit a crime or become a victim of a crime by analyzing a variety of risk factors, such as past arrests or convictions in the case of offenders or victimization patterns in the case of crime victims.
Predictive policing uses computer algorithms to predict future crimes, making it more accurate than police officers relying on only their instincts. In many cases, predictive policing practices can also save law enforcement agencies money by increasing the efficiency of crime reduction.
Innovative Law Enforcement Software from CPI
CPI is a leading information-sharing solutions provider solely dedicated to helping law enforcement professionals perform their jobs more successfully. The CPI OpenFox software solution consists of high-level software options that are designed to help optimize law enforcement operations. These enterprise-grade programs work together seamlessly to streamline workflows, protect sensitive information and optimize performance.
If your law enforcement office is ready to take the next steps to deter crime, contact CPI OpenFox today. Schedule a consultation or learn more about CPI's full range of user-friendly applications and software products by calling 630.547.3088.