In the world of cloud computing, there are several buzzwords that are important to know. Software-as-a-Service (SaaS) and hosted software are two of the most common. The main difference between them is that SaaS is a service that is paid for via a subscription model and hosted software is a product that is purchased and owned outright.
While SaaS and hosted software have some distinct differences, confusion remains as to what a SaaS application can do compared to a hosted software option. It is important to gain a full understanding of both options before selecting an application provider.
What Is SaaS?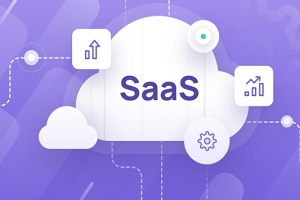 Software-as-a-Service, also referred to as software on demand, allows users to access data from any device connected to the cloud. This web-based software model uses vendors who host and maintain the servers, databases and code that make up applications.
SaaS applications can be accessed by multiple users who each pay a monthly fee for access. This pay-as-you-go solution enables customers to use the software on an as-needed basis and eliminates the need to purchase a license or install the software.
With SaaS, customers simply need to create an account and purchase an ongoing subscription. Google, Facebook and Twitter are a few examples of SaaS that any user can access from any internet-enabled device.
SaaS is an excellent solution for individuals and companies that are not looking to invest in expensive and complex software. Instead, SaaS is easy to use, offers automated updates and provides users with immediate access. Some pros and cons of using SaaS include the following:
Pros:
Affordable upfront costs
Minimal risk of system failure
Accessible from any internet-enabled device
User-friendly
Does not require updates
Cons:
Security challenges
Contractual obligations
Loss of application control to the publisher
What Is Hosted Software?
With hosted software, the customer purchases and owns the software. The customer is usually responsible for an expensive upfront payment and must install the software from a hosting center. Each customer within a hosted software arrangement is treated separately with their own software instances, servers and databases.
Hosted software tends to be more customizable than SaaS and since it is fully owned by the company, it can be updated when it is most convenient for the business instead of automatic updates as with SaaS. This means that a customer could opt out of continued maintenance and continue using the last version of the software purchased.
Stored data in hosted software is regularly backed up, making it relatively secure. However, the reliability of the software can sometimes be limited depending on the type of hardware that is used during installation.
One of the biggest differences between SaaS and hosted software is that hosted software must be installed directly onto the company's internal server and requires continuous IT maintenance. This can be useful for government entities and larger corporations that require a high level of security. Some other pros and cons of hosted software include:
Pros:
Data is securely stored in a data center with regular backups
The software is owned and only purchased once
Offers a range of features and customizable options
Cons:
Cannot be accessed if the internet fails
Integrating with other software requires additional installs and support
Environments must be monitored and managed round-the-clock
Power, cooling and hosting costs are charged to the organization
Key Differences Between SaaS And Hosted
When choosing between Saas and hosted software, there are certain criteria to consider.
1. Support Model
When paying for hosted software, an organization is paying for the bare minimum. Customers receive minimal assistance in understanding the optimal use of the software and maximizing its efficiency. SaaS offerings differ in this aspect as there are various methods for optimizing business use on the platform.

2. Pricing Model
Both SaaS and hosted software have varying prices influenced by the size of the business, the services used and similar aspects. SaaS is usually paid on a monthly subscription basis while hosted is paid all at once. SaaS solutions may be purchased as packaged plans available at different price points based on features. Hosted software tends to be more costly due to long-term maintenance.
3. Learning Curve
The learning curve can vary with both SaaS and hosted software. Hosted software can have a higher learning curve as it often deals with many configurations that require time and experimentation to understand and optimize. Software-as-a-Service is all about ease of use. Customers are delivered a user-friendly interface that does not contain too many functions and features which can be overwhelming.
Innovative Law Enforcement Software & Data Sharing Solutions
CPI OpenFox continues to push the limits of technology to provide the law enforcement industry with reliable, optimized and highly secure law enforcement systems and software. The OpenFox product suite is one of the most comprehensive and robust technology platforms in the industry. For more information about the OpenFox suite, or to schedule a consultation to learn more about our products, contact the experts at CPI OpenFox.