Software-as-a-Service (SaaS) is a type of cloud computing technology in which a cloud provider hosts applications on the web that are made available to end-users. With this type of model, an independent software vendor (ISV) may use a third-party cloud provider to host applications. With larger companies, such as Microsoft, the cloud provider may also be the software vendor.
In recent years, cloud technology has skyrocketed in popularity. According to a press release published by Gartner, global end-user spending on public cloud services is expected to exceed $480 billion in 2022. Many businesses consider SaaS to be a solid technology investment and an ideal solution for individuals, small businesses and large enterprises.
Before making the move to the cloud, it is important to understand what Software-as-a-Service is and how it works.
What Is SaaS?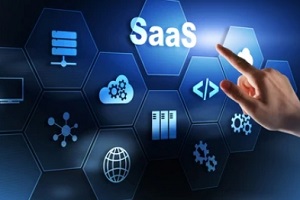 Software-as-a-Service is a type of software licensing model which delivers software on a subscription basis to end users. Instead of the software being stored on in-house servers, it is located on external servers where end-users can access it through a web browser.
Users can log in to the system with a username and password, and can access the program without having to install the software on their computer. SaaS is easy to implement, debug and update, and is generally less expensive as users pay only for what they need instead of having to purchase multiple software licenses for multiple computers.
SaaS offers many business applications, such as email, file sharing, calendars, human resources and customer retention management. This model can be the ideal solution for businesses that do not want the responsibility of maintaining software, platforms or IT infrastructure. It is also suitable for businesses that favor software subscription models, or are facing challenges that require minimal customization to solve.
Software-as-a-Service applications are sometimes referred to as on-demand software, web-based software or hosted software. They are commonly used to boost productivity, aid in project management and streamline customer relationship management (CRM).
How Does SaaS Work?
With Software-as-a-Service, a cloud service provider, such as Azure, AWS or IBM Cloud, is responsible for managing the cloud environment in which the software is hosted. Cloud-based applications leverage a multi-tenant architecture to take advantage of pooled resources. The SaaS provider takes care of all bug fixes, updates and other general maintenance for the apps. End-users interact with the software via a web browser on a computer or mobile device.
Due to the flexible nature of SaaS, providers can more easily roll out new tools and features for their customers. Many SaaS applications are pre-configured plug-and-play products that are managed by SaaS providers behind the scenes. The provider is responsible for managing all hardware components, such as storage, networking and datacenter servers. They also manage platforms, including the operating system, virtualization and middleware. Finally, they oversee software requirements, such as data, runtimes and the apps themselves.
What Are The Pros & Cons?
Software-as-a-Service offers a number of advantages to users, including the following:
No need to install or run applications. Before cloud technology, applications had to be physically downloaded onto a computer which took up a considerable amount of computing power and space. SaaS eliminates this issue by making apps available through the internet.
Easy and instant updates. With SaaS, businesses never have to worry about using software that is out-of-date which could compromise functionality and pose safety concerns. SaaS solutions make updates instant and ongoing.
Remote access to important software. Employees are no longer limited to their office when they want to complete work. With access to software from any web browser, employees can access applications from any device and location.
Cost-effective solutions. There are no upfront hardware costs associated with SaaS, helping businesses save money. Flexible payment methods, such as pay-as-you-go, allow businesses to pay only for what they need.
While there are many benefits of moving to the cloud, there are some downsides of SaaS to consider: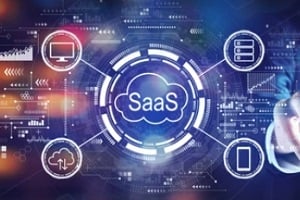 A lack of control. Many businesses appreciate that their stored information is tied to their on-premises resources, meaning any threats are internal. With SaaS, information used in SaaS programs is stored in the vendor's data center. If there is a hack or the servers go down, businesses have little control.
Necessary access to the web. Many types of traditional software programs can be used without access to the web, such as Microsoft Excel. However, SaaS requires access to the internet, meaning if there is a service outage, production could come to a standstill.
Law Enforcement Systems & Software
Today, many industries rely on cloud-based technology to streamline operations. The law enforcement industry is one such industry that commonly uses information-sharing systems, offender management systems, background check software and other applications to maintain public safety. CPI OpenFox is an information-sharing solutions provider dedicated to law enforcement professionals. For more information or to schedule a consultation, contact CPI OpenFox today.