Cloud computing refers to the delivery of computing services, such as servers, databases, storage, analytics, software, networking and intelligence. This on-demand access to computing resources is available over the internet and charged via pay-as-you-go pricing.
Law enforcement officials across the country are using the cloud for a variety of functions, such as data backup and disaster recovery. This technology can also be useful in other ways, such as by organizing and storing large amounts of digital media files and evidence.
5 Benefits Of Using Cloud Computing For Law Enforcement
In the law enforcement industry, the challenge of securely managing an ever-growing accumulation of data while keeping it accessible in a mobile environment is accelerating at a rapid speed. The use of cloud-based computing in law enforcement can deliver to public safety officials the tools they need to be successful.
1. Compliance With Federal Policies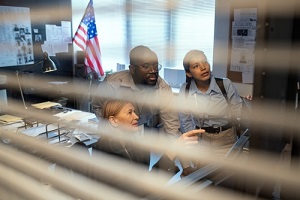 Law enforcement officials manage a large volume of personally identifiable information (PII), arrest records, background reports and other private data considered to be sensitive and confidential information. To protect the privacy of certain individuals, law enforcement is responsible for handling this information in a manner that is secure and sensitive.
An agency compliance plan should include proper case management. Law enforcement is tasked with meeting the policies and recommendations as outlined by the FBI's Criminal Justice Information Services (CJIS) division. These policies and recommendations apply to both cloud-based and on-premise software solutions.
Failure to comply with certain federal policies can result in hefty fines or other legal implications for agencies found at fault. Cloud-based computing makes it easy for law enforcement agencies to remain in compliance with federal policies and prevent the occurrence of security breaches, audits and similar events.
2. Reduced Operational Costs
Switching to cloud-based computing can save law enforcement departments a large amount of money over time. Cloud providers generally start the client relationship by negotiating a contract. Law enforcement agencies are charged an ongoing subscription cost, meaning they only pay for what they need and can scale up or down as needed.
Cloud-based computing does not require any equipment to install, making it less costly and quicker to get started. Agency on-premise installations can cost a significant amount of initial investment in both time and money. Continued costs come from maintaining employees specifically for support and upkeep of the on-premise solution.
3. Secure Backup Recovery
One of the biggest risks that law enforcement agencies take when using on-site installations without a solid backup recovery plan, is data loss or corruption. When agencies lose access to important information or evidence, it can threaten the success of criminal investigations and court cases.
Cloud-based computing simplifies the backup recovery process by automating these critical processes. Major cloud providers have data centers for government customers situated in different areas of the country. These data centers are highly secure and store redundant copies of data to protect against natural disasters, attacks and other events.
4. Cyber Attack Protection
Cybercrime costs are expected to grow by up to 15 percent each year over the next five years, reaching a total of $10.5 trillion annually by 2025, according to Cybersecurity Ventures. With the number of cyberattacks on the rise, many law enforcement agencies are looking for new and more effective ways to guard against these attacks.
Cloud-based computing solutions are maintained by providers who have invested a significant amount of capital into maintaining the best security possible. Although the cloud cannot guarantee data protection at all times, it can reduce the likelihood of, and limit the effects of, a cyber attack.
5. Automatic Software Updates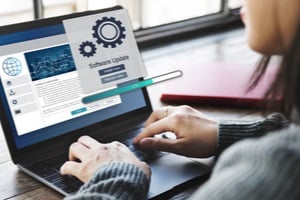 Law enforcement officials have many responsibilities, such as deterring crime, patrolling assigned areas, monitoring activities to protect people and property, responding to emergencies and many others. Most agencies do not have the time or manpower needed to continually update and manage software.
Cloud-based computing can save agencies time and stress by providing continuous integration and delivery of software. With cloud computing, new software versions can be conveniently tested and deployed in the cloud environment. This allows end-users to gain access to the newest and more efficient tools and features regularly.
The cloud service model known as Software as a Service (SaaS) offers many benefits designed to streamline software access. Software vendors are generally tasked with taking care of software versions and implementing new security updates on behalf of their users.
Contact CPI OpenFox About Cloud-Based Law Enforcement Software
CPI OpenFox offers professional software solutions exclusively designed for the law enforcement industry. These solutions are enterprise-grade programs that help optimize agency processes and automate workflows. These solutions are also fully encrypted to safeguard confidential information. To learn more about the benefits of cloud-based computing in law enforcement or to inquire about the OpenFox product suite OpenFox® Law Enforcement Software Solutions, contact the experts at CPI today.