With technology growing smarter by the minute, criminals are using this to find new and innovative ways to cover their tracks. Fortunately, modern law enforcement has access to cutting-edge software designed to streamline investigations and maintain public safety.
From police background check software to comprehensive database solutions, law enforcement software enables police to optimize their day-to-day processes with custom tools and programs that can be easily integrated into their existing systems.
A Brief Overview of Law Enforcement Software
The demand for law enforcement software is growing and the reason is clear. As working in law enforcement becomes more hazardous by the day, strengthening security and properly managing public safety has become a top priority.
Law enforcement software can give officers an upper hand by providing departments with plug-and-play digital tools designed to streamline menial tasks and support daily job responsibilities.
The right law enforcement software solutions can:
Save time for officers by cutting down on planning and reporting
Provide departments with access to multiple channels of non-biased data
Improve reporting capabilities
Optimize law enforcement patrol resource designation
Law Enforcement Software Product Offerings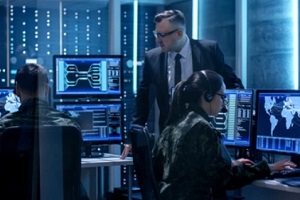 Law enforcement software has the power to help police and investigators by automating time-consuming activities, such as casework, report writing, and police dispatching. In addition, law enforcement software products can help agencies better manage sensitive data for analysis, such as records and crime databases.
The prime objective of law enforcement software is to improve overall task efficiency. Today, officers have access to a wide variety of tools and programs that can help speed up investigations, cut costs and improve accuracy. The following are some of the most commonly used law enforcement software offerings available to police officers.
Police Background Check Software
Law enforcement background check software enables police to perform fast and secure professional background checks. The software can be easily tailored and adapted to any existing infrastructure.
From time to time, police may find it necessary to perform expedited background checks to obtain specific information. The right background check software allows for fast background checks when needed.
Comprehensive background check software pulls information from a variety of trusted and reputable sources to ensure that officers are searching for the right person. Police can also gain access to useful tools, such as live scan fingerprinting, that allow police to submit fingerprints to the FBI and other regulated authorities.
Police Database Software
Police database software allows law enforcement to obtain important information and records that can be consistently updated and accessed from any location. Having proper data analytics is essential to determine appropriate patrolling patterns, look at dangerous past behaviors of suspects and review criminal records.
With police database software, law enforcement can stay better organized by compiling all data into a single database. Database software can also be easily integrated into a department's existing systems and can be customized to meet the unique and ever-changing needs of a modern police department.
Information Exchange Systems
Information exchange systems are useful for departments of all sizes as they can be easily integrated into existing systems and help to improve the efficiency of information exchange protocols. Information-sharing tools make it easy for officers to quickly access the information they need in the office or on the scene, including during times of crisis.
Offender and records management systems are critical for a smooth workflow. With the right suite of tools, law enforcement possesses the robust capabilities to enhance officers' ability to submit and retrieve important information, such as warrants, incident reports, arrests, images and more.
Software-as-a-Service (SaaS) Availability
Today, many law enforcement agencies prefer the ease of software-as-a-service as a way of delivering applications. Instead of installing and maintaining cumbersome software programs and tools, SaaS allows police to access applications via a secure telecommunications infrastructure.
Software-as-a-Service can offer law enforcement a wide range of benefits, such as:
End-user transparency
Lower costs
Cutting edge Tier III Data Center
Software and hardware upgrades
Software and hardware system management
No changes to remote systems
These next-generation solutions are designed to save money and improve overall efficiency. SaaS solutions include various options, such as mobile workstations, disaster recovery, concealed weapon permits, criminal history applications, messenger applications, and more.
Create a More Intelligent Workflow with CPI OpenFox
Choosing the right software solution can often be challenging. Law enforcement agencies must consider their particular needs and goals and what tools and features will best suit their unique needs. There are several elements to consider when choosing law enforcement software, such as security options, collaboration opportunities, and availability.
CPI OpenFox offers law enforcement custom software solutions that meet these requirements. The OpenFox Suite of law enforcement software includes custom software solutions designed to optimize law enforcement operations to give police and investigators the upper hand during criminal investigations. To learn more or to schedule a consultation, contact CPI OpenFox today at (630) 547-3088.