Technology continues to transform the way that law enforcement agencies across the country operate. From innovative tools to fight crime to cutting-edge police software, the latest technologies have the power to identify crime patterns, streamline investigations and assist in the swift apprehension of criminals.
In 2023, law enforcement organizations will continue to seek out the latest law enforcement software and police technology, including the following emerging technologies.
1. Cloud Computing
Cloud computing has evolved at a rapid rate, and with the introduction of many new tools and services, law enforcement can expect to gain even more from this technology in 2023. In fact, Gartner predicts that worldwide public cloud end-user spending will reach up to $600 billion in 2023.
Cloud computing can be especially advantageous for law enforcement, resulting in reduced operational costs, compliance with federal policies, automatic software updates, cyber attack protection and secure backup recovery.
2. Real-Time Data
Technology now offers the possibility of real-time data for law enforcement, allowing for greater operational efficiency and peak productivity. Real-time security officer tracking software and similar technologies enable agencies to monitor patrol routes, confirm check-in locations and perform other essential activities.
3. Records Management Systems
Records management systems (RMS) have revolutionized the way that law enforcement agencies and many other types of organizations manage their data. RMS has helped eliminate the need for time-consuming traditional paper filing by transferring large amounts of information electronically to secure databases that can be easily accessed by authorized users.
With access to a comprehensive database, law enforcement can better identify crime patterns and find important information faster than ever before.
4. Facial Recognition Software
While facial recognition software is not new, its capabilities have improved tremendously over the last few years. Today, many federal agencies are utilizing this technology for crime prevention purposes. Facial recognition software can be used to measure distinctive facial characteristics, and when this information is run through the appropriate software, law enforcement can gain access to a gallery of likely candidates.
5. Thermal Imaging
Thermal imaging technology uses infrared imaging technology to detect heat that is emitted from certain objects, people or animals. The software then converts the heat into a "heat map" or "heat picture" of its environment. Police now use thermal imaging in search and rescue missions, when tracking suspects in the dark and in similar situations.
6. Hands-Free Operation
Law enforcement officials are always on the go, meaning they are limited in what they can carry with them. Having hands-free operation has become essential for officers and public safety. Wearable devices offer law enforcement an innovative level of intelligence by enabling officers to use voice commands and similar technologies while on the job.
7. Mobile Fingerprinting
In decades past, fingerprinting was a prolonged and manual process that was completed in police stations or federal organizations. Today, law enforcement is equipped to perform fingerprinting duties while on the go.
Mobile fingerprinting technology allows law enforcement to avoid unnecessary travel to the station, resulting in increased productivity. This technology can be useful in a variety of situations, such as when a person has no other means of identification.
8. Computer-Aided Dispatch
Computer-aided dispatch (CAD) software has become an integral component of law enforcement operations. These systems are used by dispatchers, 911 operators and other call-takers to ensure that phone calls are prioritized, and incidents are properly recorded. CAD systems have grown in size and complexity over time to meet the increasing needs of law enforcement agencies.
9. Automatic License Plate Recognition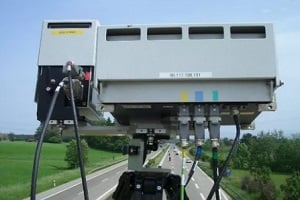 With automatic license plate recognition (ALPR) technology, officers can easily scan license plates while on the field. This technology enables officers to be more productive and responsive by reducing the time spent manually entering license plate data, as well as reducing the time spent communicating with dispatchers. ALPR technology has even helped law enforcement in solving crimes, such as terrorism, abduction and murder.
10. Gunshot Detection Systems
Some law enforcement agencies in the U.S. have started to implement gunshot detection systems, otherwise known as GDS. These artificial intelligence systems are still improving but offer many incredible features that have proven helpful in investigations. With GDS, law enforcement officers can respond faster to gunshots, increasing their odds of tracking down suspects and helping victims get the help they need.
Trust CPI OpenFox for Reliable Law Enforcement & Data Sharing Solutions
CPI OpenFox is a leader in law enforcement software and data-sharing solutions for the law enforcement industry. Our high-level software solutions are designed to help optimize important law enforcement processes, improve reporting capabilities, gain access to unbiased data and streamline workflows.
In addition, CPI OpenFox software solutions are fully encrypted and scalable. For more information about solutions offered by the OpenFox product suite, contact us at (630) 547-3088 or schedule a consultation.